Photo Caption
L-R: Senior Manager, Public Relations, Toyota Nigeria Limited (TNL), Mrs. Bukki Ogunnusi; Head of Dealers Development at TNL, Mr. Henry Ojuoko; General Manager, Corporate Services, TNL, Mr Bunmi Onafowokan; Deputy General Manager, Lubricant Division at Idemitsu Company, Japan, Handa Toyokazu; Managing Director, TNL, Mr Kunle Ade-Ojo; MD Idemitsu Lube for Middle East & Africa, Otsubo Shinji; and Head of Parts Department at TNL, Mr Ravinder Kumar Sharma, during the launch of Toyota Genuine Motor Oil (TGMO) at the Toyota Certified After-sales Service Centre, Isolo, Lagos…on Thursday.
Toyota Nigeria Limited (TNL), has added value to Toyota and other vehicles ownership in Nigeria by the formal introduction of the Toyota Genuine Motor Oil (TGMO), which is made by has idemitsu Japan with Toyota in mind.
Though manufactured with Toyota and Lexus in mind, idemitsu affirmed that any other brand of vehicle can equally use it without worries.
The product which comes in different grades would be distributed by Toyota Nigeria Limited (TNL) through its dealership network and other independent outlets across the country.
The Managing Director of TNL, Mr Kunle Ade-Ojo, said the TGMO was as a "result of tireless research, innovative technology, and a passion for excellence by Toyota Motor Corporation."
He said, "Toyota, a global leader in automotive innovation has always been driven by a vision to create vehicles that inspire and enrich the lives of people worldwide. This vision extends beyond just the cars that are manufactured; it encompasses every aspect of the Toyota ownership experience.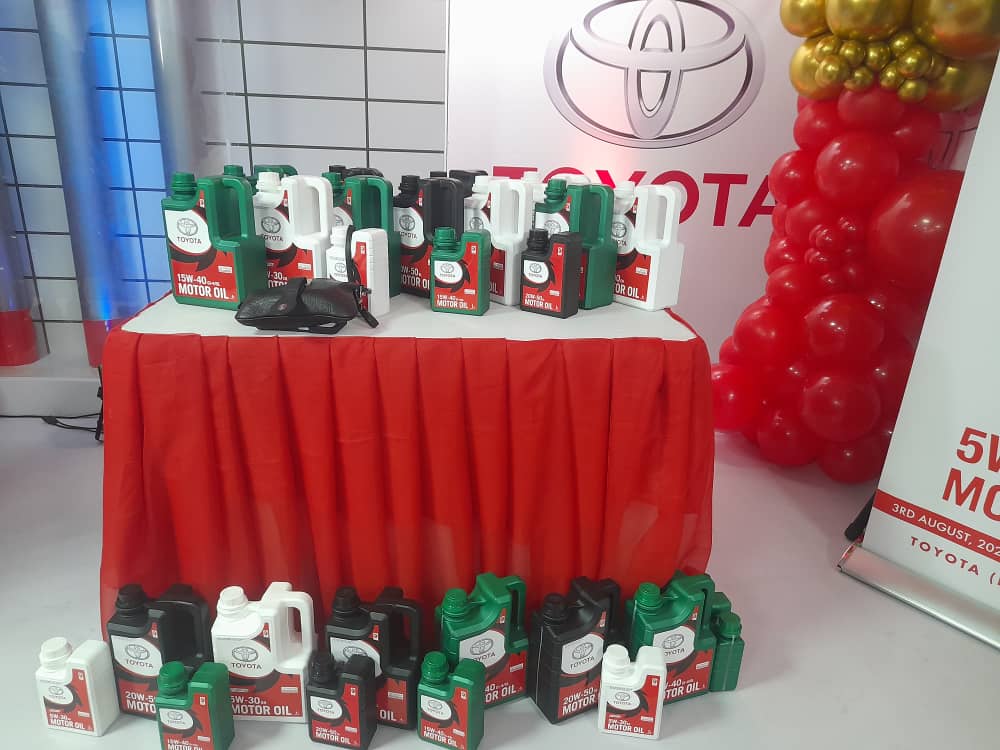 "The engine is the heart of any vehicle, and as a responsible automaker, developing a motor oil that ensures your engine performs at its best while contributing to a greener and more sustainable world is our commitment to society.
"With over 100 years of experience in producing lubricant, Idemitsu is the leading manufacturer of genuine motor oil for all Toyota and Lexus vehicles. We are thrilled to introduce Toyota genuine motor oil of grades 20W50, 5W30 and 15W40."
He added that the engine oil has been designed to meet and exceed the strictest industry standards, adding, "Its advanced formula (thin film of protection) provides enhanced protection against engine wear, reduces friction, and optimizes fuel efficiency, giving you a smoother and more enjoyable driving experience."
According to him, Toyota genuine motor oil helps extend the life of the engine if used regularly given its superior protection against sludge and deposits, making the engine cleaner and ensuring it operates at peak performance throughout its lifespan.
The Managing Director, Idemitsu Lube for Middle East and Africa, Otsubo Shinji, said the lube company has a role to "supply the best oil for Toyota vehicles."
The TGMO was formally unveiled at the ultra-modern Toyota after-sales facility located at Isolo, Lagos in an event that was graced by top TNL and idemitsu officials as well as accredited Toyota dealers and associates.