By Ignatius Ushie
Kano State is about to witness a groundbreaking transformation in the digital landscape as Smile Communications, a renowned telecom provider, launches its SuperFast Internet Services in the region.
Following the success of its Voice services earlier this year, Smile is now poised to revolutionize the internet and data services sector with its comprehensive bouquet of products and services.
The arrival of Smile in Kano comes at a time when the demand for reliable and high-speed internet services is on the rise, promising an exciting and unparalleled experience for the citizens of Kano State
With its launch in Kano, Smile Communications is introducing a range of cutting-edge products designed to meet the diverse needs of the population.
From SMiFis to Routers and Dongles, Smile offers a versatile selection of devices that cater to various connectivity preferences.
Moreover, Smile has gone the extra mile by providing a physical FREE SIM card that can be utilized on 4G LTE-enabled smartphones.
With a monthly subscription of just N5000, users can enjoy unlimited smartphone data, granting them AlwaysOn non-stop access to the digital world.
Smile Communications prides itself on being the provider of unlimited AlwaysOn non-stop data.
The Chief Marketing Officer Abdul Hafeez says "By offering reliable and uninterrupted internet connectivity, Smile will ensure that Kano citizens can seamlessly browse, work, connect, and indulge in online activities without constraints. This commitment to reliability is coupled with affordable pricing, making Smile's services accessible to a wide range of individuals, including students, businessmen and women, artisans, housewives, and young upwardly mobile youths."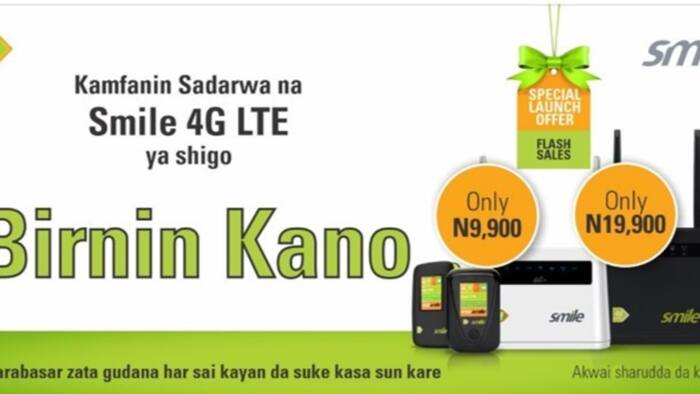 To facilitate easy access and patronage, Smile Communications has established numerous customer centers across Kano. These centers serve as one-stop destinations for citizens to discover, inquire about, and acquire Smile's products and services. By bringing Smile closer to the people, the telecom provider is not only promoting convenience but also fostering a strong bond with its customers
Industry experts have anticipated Smile's steady growth in Kano, given the city's development and growing digital needs.
However, the level of patronage and love that Smile has already received in Kano is nothing short of extraordinary.
Citizens from all walks of life have enthusiastically embraced the brand, recognizing the value it brings to their online experiences. This overwhelming response is a testament to Smile's commitment to delivering exceptional connectivity and its ability to meet the demands of a tech-savvy population.
With the launch of Smile Communications' SuperFast Internet Services, Kano State is on the brink of a digital revolution. Smile's dedication to providing reliable, unlimited, and affordable internet connectivity is set to enhance the lives of students, entrepreneurs, professionals, and every Kano citizen who depends on the internet for various purposes. As Smile opens its doors in Kano, the city is poised to experience a wave of excitement and a new era of digital empowerment.