By Goodness Sunday

The Joint Body of the Nigerian Seafarers Professional Groups has celebrated Day of the Seafarers 2023 in style.

As the 'Day of the Seafarers' campaign of the International Maritime Organization is being observed worldwide annually, the Joint Body of the Nigerian Seafarers Professional Groups celebrated themselves on Sunday June 25 2023 at the National Institute for Sports Hall, National Stadium, Surulere Lagos.

A seafarer is an individual who is trained to work on board on ships.
The Day of the Seafarer (25 June) was established in a resolution adopted by the 2010 Diplomatic Conference in Manila to adopt the revised STCW Convention.
Its stated purpose is to recognize the unique contribution made by seafarers from all over the world to international seaborne trade, the world economy and civil society as a whole.

The resolution "encourages Governments, shipping organizations, companies, shipowners and all other parties concerned to duly and appropriately promote the Day of the Seafarer and take action to celebrate it meaningfully".
Day of the Seafarer is recognized by the United Nations as an observance day.
Speaking to Goodness Sunday of Transport Day at the just concluded event, Secretary General of the Merchant Seafarers Association of Nigeria (MESAN) Captain Alfred Oniye, said "80% of what we consume in Nigeria are being shipped in by the seafarers.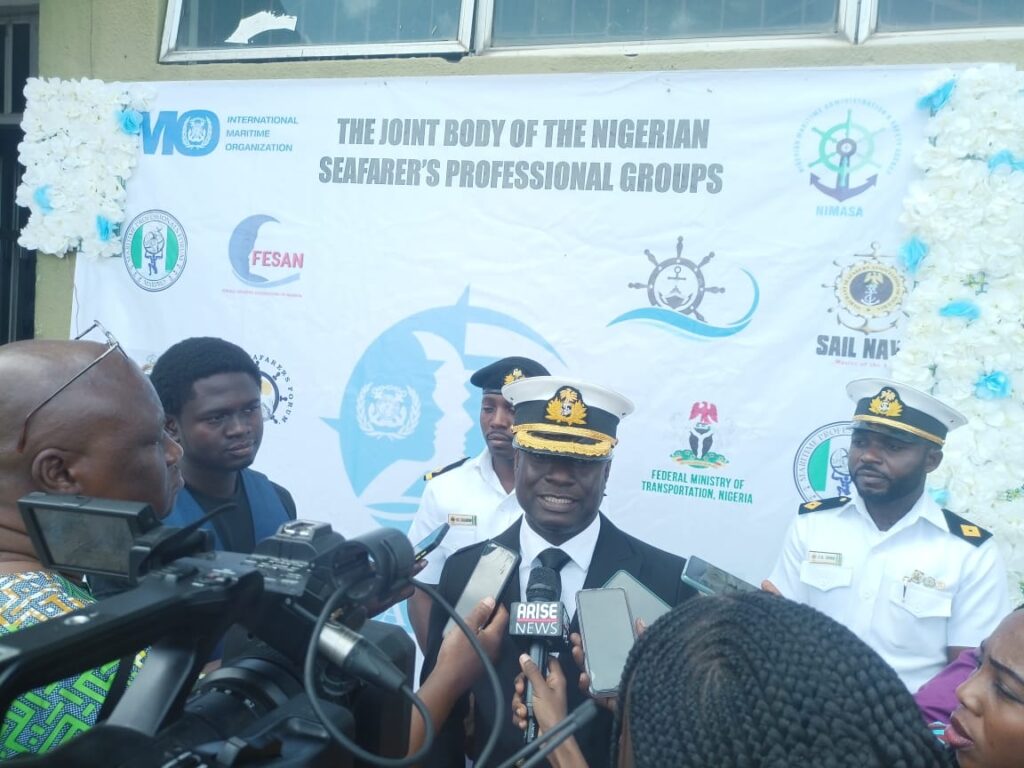 "On the other hand, most jobs are being occupied by the foreigners. These jobs belong to the Nigerian Seafarers, on this basis, I demand that Cabotage Act be implemented.
"The law says 'Any ship that is sailed within the Nigerian coast must be built in Nigeria, Owned by Nigeria, Manned by Nigeria and Crewed by Nigeria."

Captain Oniye questioned "why buy ships from outside the country if the Cabotage Law is implemented?"
On disbursement of the CVFF fund, he said "this money should not go out". Captain Oniye advised that the government come up with a policy that will encourage ship building in Nigeria which will create job opportunities of over 15,000 Nigerians because ships will be built here in Nigeria, owned by Nigeria, local and foreign Investors will invest, and thus create job opportunities both directly and indirectly," he said.

"With over 70% of jobless Nigerian Seafarers, the apex body, NIMASA keeps training closely 3,000 seafarers outside have not given 100 jobs. If they did, let them list out the names of the seafarers and the companies they work for."
He said "we have the facts and figures with us. If NIMASA trained 3,000 seafarers outside the country, they have not given 100 jobs. Where are the remaining 200?"