By Ignatius Ushie
The Permanent Secretary, Federal Ministry of Transportation, Dr. Magdalene Ajani, has urged staff of the Ministry to acquire e–working skills as official communication in the nearest future will be digitalized.
In a statement made available to Transport Day in Abuja, Dr. Magdalene who made this known during the 2021 edition of the Joint Union Negotiating Council's week in Abuja recently. She enjoined the staff to embrace the computer age as it has not only come to stay but provides innovative ways of doing things leading to increased productivity.
According to her, "So next year, we will do a lot of  e – working. We are going to go digital. There will be computers on every table or at least in every office", she said.
The event also provided an opportunity for the Permanent Secretary to express her disappointment that none of the staff participated in the innovative challenge organized by the Office of the Head of Civil Service of the Federation where successful participants went home with mouth-watering prices.
She further explained that innovation does not necessarily only refer to scientific inventions but could be looking "at our operational challenges and coming up with proposed solutions on how to overcome them".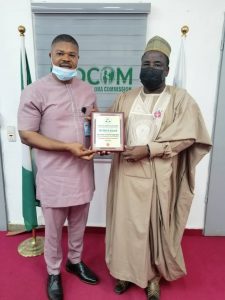 In his address, the Chairman, Joint Union Negotiating Council, Federal Ministry of Transportation, Femi Kolawole, lauded the Management Team of the Ministry for its unalloyed support to the Union and the workforce.
The lecture for the day titled: "Importance of Infrastructure in Economic Development" was delivered by Dr. Danjuma Ismaila, the Director, Training, Nigerian Institute of Transport Technology (NITT).
Dr.  Ismaila, in his presentation, explained that transportation Infrastructure and economic development are intertwined, as a robust transport system is catalyst to economic growth and development.
He further observed that throughout history, major milestones in transportation infrastructure have stimulated progress and extensively improved the quality of life of the people, advising that as a driver, transportation needs to be improved for other sectors to improve.
The highlight of the occasion was the presentation of awards for excellence to the Honourable Minister of Transportation, Rt. Hon. Chibuike Rotimi Amaechi, the Minister of State for Transportation, Sen. Gbemisola Ruqayyah Saraki and the Permanent Secretary, Dr.  Magdalene Ajani.
Some Directors who will be leaving the service in or by end of 2022 were recognized for meritorious service to the nation.
Similarly, athletes who were first in the just concluded Federation of Public Service Games in Ilorin, Kwara State were recognized and appreciated.