Over 700 companies have submitted bids to win contracts to the awarded by the Nigerian Railway Corporation (NRC) under its 2022 budget year.
This figure was stated by the Director of Procurement of the NRC, Mr. Ben Iloanusi, today during the bids opening event held at the NRC headquarters in Lagos.
According to him,  the process has always been hitch-free because "over the years, we have gotten feedbacks and built guidelines and procedures".
He stated that the Desk Officers who were saddled with the responsibilities of conducting the process have undergone comprehensive training.
Iloanusi added that the event, which Transport Day noted, was observed by accredited Civil Societies Organisations and representatives of the Federal Ministry of Transportation, was for citing of bid documents.
Speaking earlier, the representative of the Managing Director of the NRC, Mr. Niyi Ali, who is the Director of Operations of the Corporation, said the NRC Iis known for ensuring transparency in all awards of contracts.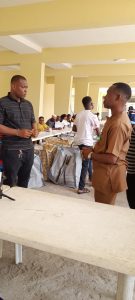 He said "as you can see, we have adhered strictly to the 2007 Procurement Act as amended, and the bids are for capital projects like locomotive repairs, spare parts,  civil works etc".
Transport Day reports that the event was very orderly as prospective contractors were given access to verify their submitted bids.