Over 100 automotive companies, both local and foreign have confirmed their
participation at this year's edition of Lagos International Motor Fair and Autoparts Africa Expo, holding June 6-9, 2023.
This was revealed by the Managing Director of BKG Exhibition Limited, Mr. Ifeanyi Agwu, organiser of the fair, in a chat with newsmen yesterday.
He listed some of the confirmed exhibitors as Coscharis Motors, 11Plc., [formerly Mobil]-Gold Participant, Michelin Nigeria, WestStar & Associate, Hubei Shuangju Industry &Trade Company Limited, Xgm Corporation Limited, Quanzhou Mingyang Automobile Parts Co., Ltd.; Xingtai Changshuo Mechanical Parts Co., Ltd.; Tantivy Automotive Co., Ltd.; and Shijiazhuang City Kabang Valve Manufacturing Co., Ltd among others.
Agwu who is also Chairman of the organising committee, said the event holding at the Federal Palace Hotel, Victoria Island, Lagos, is aimed at driving more investment into automobile spare parts and accessories manufacturing in Nigeria.
He said apart from showcasing the best of products in the industry, the auto part makers from China, Europe and other foreign countries would be looking forward to meeting genuine local investors with a view to setting up manufacturing firms in Nigeria.
Justifying why Nigeria should be a thriving hub of auto spare parts manufacturing in the country, he explained that it is based on Nigeria's huge market and large population.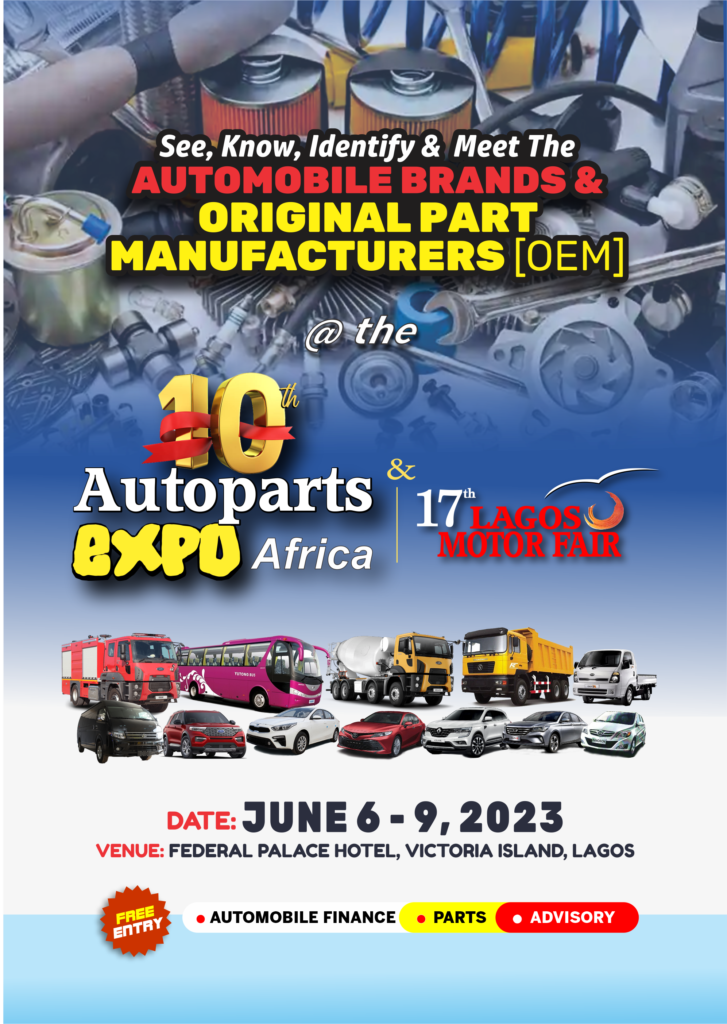 According to Agwu, this year's edition of the event would focus on Business-to-Business interface between the exhibiting Original Equipment Manufacturers [OEMs] and dealers in auto parts from major auto markets across Nigeria and some neighbouring countries.
He said "We are aiming at using such platform to see to working business partnerships between them and the OEMs that will lead to setting up plants in Nigeria to manufacture parts and accessories."
Agwu therefore advised the Federal Government to focus more on spare parts manufacturing rather than vehicle assembling.
The experienced events manager added: "Spare parts is the place where the real technology transfer takes place. It involves precision and proper planning more than the coupling that takes place in assembling.
"This will give rise to the establishment of more Original Equipment Manufacturers and increase employment.
"The Autoparts Expo segment of the event is doing well and we are looking at involving a lot of countries in West and Central Africa in the edition.
"This we have kick-started by extending invitation to players in the auto parts business in those countries to visit the fair. We are aiming at using the Nigerian Autoparts markets as the hub of the sector's business in Africa. The intention is to make them (players from other countries) to be buying from the Nigerian markets. In no distant future, it will become a big event spreading to other countries in the continent. Nigeria has the resources and capacity to play such a role and it will be a very big disservice to Nigeria and its people if another African country does this ahead of Nigeria.
"In conjunction with our foreign partners, we have reached out to many of such companies, and happily, the response has been tremendous and we are expecting over 100 Original Components manufacturers."
"Manufacturers from China, India, South Korea, South Africa, Singapore, Turkey, Nigeria, etc. including major automobile distributing/manufacturing companies in Nigeria are showcasing at the event. Our intention in bringing them is to enable Nigerians and neighbouring West Africans engaged in automobile, spare parts, accessories, and allied businesses to work out rewarding and lasting business relationships with the main companies engaged in manufacturing these products and services."