By Frank Kintum
The Nigerian Railway Corporation (NRC) has achieved and is currently running 4,178.5 kilometres of railway tracks nationwide. This was revealed by the Managing Director of Nigerian Railway Corporation (NRC), Mr. Fidet Okhiria at the recently held 9th Nigeria Annual Transport Lecture, at the Shehu Musa Yar'Adua Centre, Abuja.
Represented at the event by the Director in charge of Planning, Dr. James Gyang, he stated that the Corporation has achieved "Over 3,505 kilometres of Narrow-gauge rail line built (Western & Eastern lines); 185.5km double line standard gauge rail line Lagos-Ibadan; and 186km of standard gauge rail line, Abuja – Rigassa.
He added that the Corporation has also recorded 302 kilometres network of standard gauge rail line from Warri to Itakpe; Construction of Kano – Kaduna standard gauge rail line is ongoing; and Linking of Inland Depot Ports with rail sidings with a view to transporting cargo from the ports closer to the owner's destination. Such exist at Kaduna (ICNL) Dala Kano State and Funtua in Katsina state.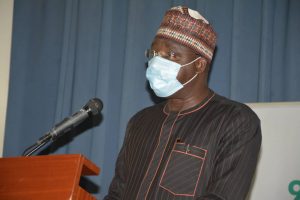 Dr. Gyang also added that "we have five 5 terminals that are used for transporting cargo from Apapa port to Oyingbo and Ijoko with a view to decongesting the ports; as well as  Reconstruction of the Eastern line; contract awarded from Port Harcourt to Maiduguri; and for the year ending 2021, we transported 3,923,000 passengers and over 168, 000 tons of goods".
He explained that huge opportunities exist for partnership with individuals and corporate organizations in collaboration with the NRC in several ways including "E-ticketing solution for our narrow gauge rail corridor in the form of PPP. This is what was done on the Abuja – Kaduna train service. Arrangement is being concluded on same for the Warri – Itakpe, and Lagos – Ibadan train services".
According to him, "Organizations and individuals can bring in their rolling stock (Locomotives, Coaches, Wagons) and operate them on our tracks and pay track access charge. A good example is the Lagos red line metro train which will run on our tracks from Ebj to Ijoko. Other opportunities include the building of warehouses, hotels and shopping Malls along the rail corridor on a PPP basis".
On the prospects, Dr. Gyang stated that "the rail system in Nigeria has the potential to link Agro and Mineral raw material hubs to the city centres and industries where they will be needed as raw materials.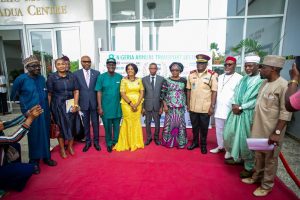 "It will facilitate urban development and address issues around rural – urban migration. When adequately deployed, the rail sector has the potential to increase the life span of our roads by taking away very heavy cargo and goods due to its ability to haul large cargo at once. It also reduces carbon emission due to its ability to transport large number of passengers and goods in a single train".
He listed challenges facing the NRC to include Insufficient rolling stock, Obsolete workshop and maintenance equipment, and security challenges due to porous nature of the rail corridor. "The need to have the support of the security agencies in this regard can never be over emphasized".
Other dignataries who graced the annual event include the Permanent Secretary of the federal ministry of Transport, Dr. Magdalene Ajani; former Permanent Secretary, ministry of Special Duties and Inter-governmental affairs, Dr. Anthonia Ekpa (who was the lead Speaker); Director General of the National Automotive Design and Development Council, Mr. Jelani Aliyu; Managing Director of Eco Bus, Mr. Johann Reiger; National President of the Nigeria Association of Road Transport Owners, Alhaji Yusuf Othman among others.
The Hon. Ministers of Aviation and Works, as well as the Chief Executive Officers of the Nigeria Aviation Management Agency, Nigerian Railway Corporation, Nigeria Civil Aviation Authority, Nigeria Institute of Transport Technology, Federal Road Safety Corps, Infrastructure Concession Regulatory Commission etc were also represented.