By Goodness Sunday
Nigeria Merchant Navy and Water Transport Senior Staff Association (NMNO/WTSSA) in collaboration with the Maritime Workers Union of Nigeria (MWUN) have successfully hosted the third seafarers colloquium to mark the Seafarers Day, in Lagos.
The annual seafarers colloquium was held in the Mission To Seafarers Center, Apapa G.R.A, on the 23rd of June 2023, where the Collective Bargaining Agreement was a point of discussion.
Mainly, the event discussed the major challenges facing Nigerian Seafarers such as poor salary and delay payment of wages; delay in signing of Certificate of Competency (COC); and issuance of interim certificate by NIMASA not accepted by Port State of other Countries and most Shipping Companies in Nigeria.
The National President of NMNO/WTSSA, Chief (Engineer) Bob Joseph Yousuo, said "My dear professional colleagues, I am most honoured to appreciate my colleagues all over the world for our contributions towards the World Trade. Words cannot express my gratitude to Seafarers worldwide. Today, as a seasoned seafarer, I salute your courage and doggedness."
The theme for this year's Seafarers Day celebration is "Seafarers Contribution to Protecting the Maritime Environment" in line with the World Maritime theme MARPOL @ 50 – Our Commitment Goes on". The International Convention for the prevention of pollution from Ships (MARPOL) was adopted on the 2nd November 1973 at International Maritime Organization (IMO).
In protecting the Maritime Environment, Seafarers are to take cognizance of the principles of the Convention, Designation of emission control areas as well as the five main types of Ocean pollution-Marine Debris Pollution, Plastic Pollution, Ocean Acidification Nutrient, Pollution, Toxics Pollution, Underwater Noise Pollution.
Chief Engineer Bob emphasized on the need for Seafarers to take part in protecting the maritime environment. He said "As Seafarers trade for their daily livelihood, they should ensure the ecosystem is not tampered with and endeavour to assist in maintaining the balance of the ecosystem as well as to avoid polluting the waters either by dropping waste products, oiling materials or things that are harmful to human beings, plants and animals in the Sea/Ocean".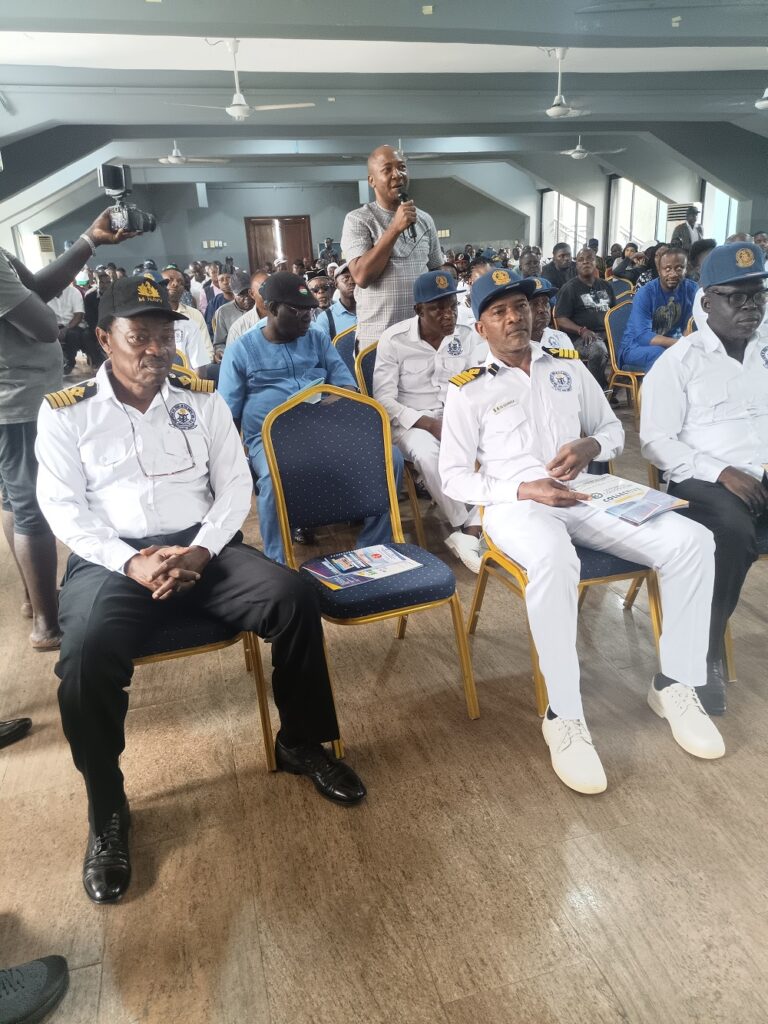 Also, Captain Abiodun Sule, the Executive Director, Nigeria Institute of Oceanography and Marine Research (NIOMR) said "Seafarers can contribute to protecting the maritime environment by having knowledge-based training and professional capacity building, effective waste reduction and management, efficient shipboard operations, prudent resource management, ensuring enhanced shipboard energy and management and practice of good Seamanship and professional commitment towards one's social responsibility".
In his submission, Lieutenant Commander Raphael Onyiaorah (Retired) representing Nigerian Institute of Marine Engineers and Naval Architects (NIMENA), advised that the Maritime Institution in Oron should be removed from the Ministry of Transportation and made an independent institution so they can generate money on their own with funds given to them by NIMASA.
The colloquium is usually a professional gathering where maritime experts come together to present and discuss their research, challenges, ideas and proffer solutions so that they can serve the world better and contribute to ensuring that the Maritime environment is protected.
Another importance of the seafarers colloquium is that it provides an opportunity for researchers, students, and professionals to present their work, share their findings, receive feedback, and engage in discussions with their peers in the Maritime industry in Nigeria. It is organized at various levels, ranging from departmental or university-wide events to national or international conferences.
The International Maritime Organization (IMO) under the auspices of the United Nations, dedicated June 25 every year to recognise the outstanding performance of seafarers in international trade and world economy. However, this year's event was held on Friday June 23 as June 25 falls on a weekend.