Passengers now have the option of travelling early afternoon on the Lagos-Ibadan standard gauge service as the Nigerian Railway Corporation (NRC) has introduced new trips to the service. The corporation said the new trips were for Friday and Saturday train schedules.
For the Friday train schedule, it added a trip to Ibadan for 12 pm and another trip for 1 pm on Saturday.
This means that the Lagos-Ibadan train service will run three trips every Friday and Saturday with the point of departure at the Mobaji Johnson train station, Lagos.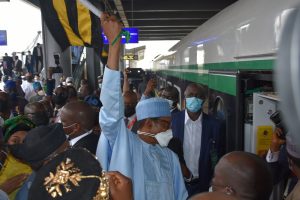 Passengers can now travel to Ibadan on Friday at the train station by 8 pm, 12 pm and 4 pm, while on Saturday, the train movement will depart at 8 am, 1 pm and 6 pm.
Meanwhile, the Lagos-Ibadan train schedule for Monday to Thursday, including Sunday, remains intact with 8 pm and 4 pm trips.
It would be recalled that President Muhammadu Buhari inaugurated the commercial standard gauge train service on June 11, 2021.