Kia Middle East and Africa has announced the official launch of its groundbreaking all-electric vehicles – the Kia EV9, EV6, and concept EV5 – at the Geneva International Motor Show in Doha, Qatar.
Marking a significant milestone as the region's first dedicated EVs, the sustainable mobility solutions provider invites media attendees and VIP customers to test drive the vehicles at this prestigious event.
Yaser Shabsogh, Vice President of Commercial Operations at Kia Middle East & Africa, commented: "This is a momentous occasion for us as we unveil our latest all-electric vehicles, the Kia EV9 and EV6. At Kia, we align our strategic vision with regional government objectives, tailoring solutions to meet specific requirements and evolving customer needs.
"Kia has experienced tremendous growth in value over the last few months since the relaunch of our brand, and we are placing high expectations on our EV range in taking Kia to new heights. Our unwavering commitment as a Sustainable Mobility Solutions Provider remains steadfast as we consistently deliver innovative solutions." 
 
Shabsogh added: "Our strategic path is firmly dedicated to fostering a greener future for both our brand and the communities we serve through innovation and sustainability."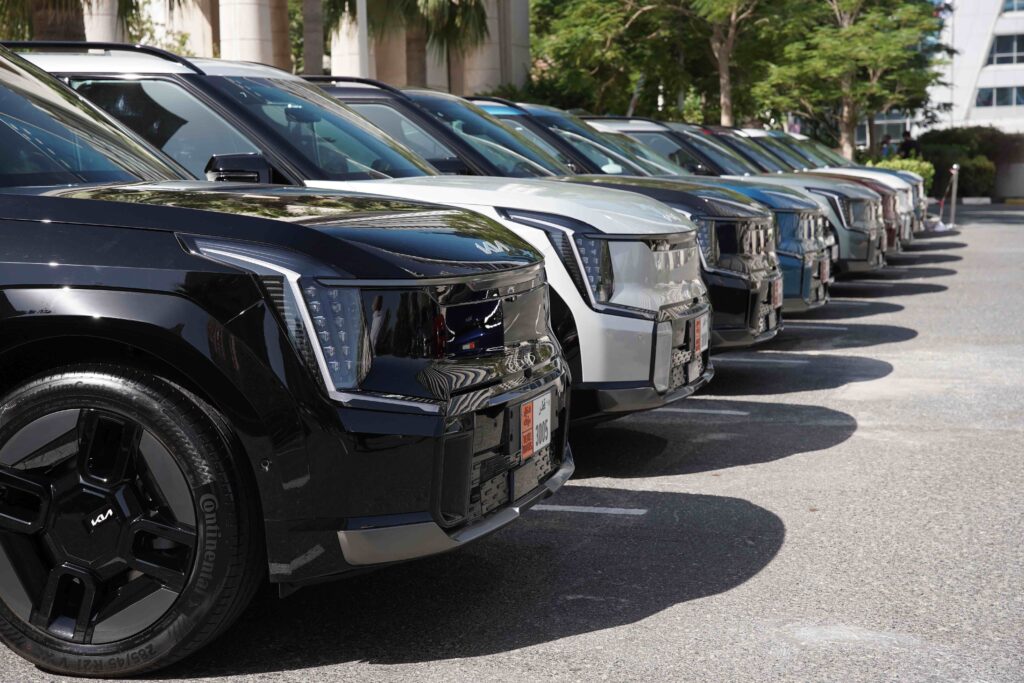 Ahmed Soudodi, Vice President of Product and Marketing at Kia Middle East & Africa, said: "As we embark on this exciting journey into a new era of mobility excellence, we are thrilled to officially launch the Kia EV9 and EV6. Introducing the first dedicated EVs to the region is a remarkable milestone, offering stylish and eco-conscious driving experiences.
"The EV9 and EV6 exemplify sustainable mobility without compromise, delivering an unmatched driving experience. We eagerly anticipate welcoming visitors and witnessing the region's next electric revolution as we expand our EV lineup in the Middle East."

Kia's primary goal is to revolutionize transportation through the development of futuristic, innovative, and sustainable EVs.
The EV9 flagship SUV, soon to launch in Q4 2023, accommodates up to seven passengers and is engineered to deliver peak power performance of 7,800 rpm and up to 541 km by range.
Kia's all-new EV6 is equally, if not more powerful, with a range of up to 528 km.
Having been named the 2023 World Performance Car in global markets and the first vehicle to utilize the E-GMP architecture, the EV6 boasts ultra-fast charging capabilities – going from 10 percent to 80 percent in just 18 minutes.
This compact mid-size SUV can accommodate up to five passengers and offers sporty dynamic interiors with ventilated driver and passenger seats, ambient mood lighting, black suede seats with vegan leather bolsters, among other features.

The all-new Kia EV9 and EV6 will be available in Q4 2023 across the MEA region.