The fast-rising domestic airline, Ibom Air, has announced plans to commence regional operations by the end of 2022, according to a press statement posted on Twitter.
PRESS RELEASE
UYO- 7TH JUNE, 2022

IBOM AIR CELEBRATES 3 YEARS OF SCHEDULED COMMERCIAL FLIGHT OPERATIONS

Friday the 7th of June 2019, exactly three years ago, Ibom Air commenced scheduled commercial flight operations with an inaugural flight from Uyo to Lagos.#IbomAirat3 pic.twitter.com/EQ6WoPRN29

— Ibom Air (@ibomairlines) June 7, 2022
The news was announced by the airline's Chief Operating Officer, George Uriesi, during the celebration of its third year of scheduled commercial flight operations, held in Akwa Ibom State, Nigeria on June 7, 2022. This marks the airline's first regional service since its incorporation in June 2019.
On June 7, 2019, Ibom Air commenced its scheduled commercial flight operations with an inaugural domestic flight from Uyo to Lagos.
The airline currently operates flights to seven domestic destinations in Nigeria – Abuja, Calabar, Enugu, Lagos, Port Harcourt, Uyo, and Yenagoa.
Domestic operations are served by a fleet of seven aircraft, consisting of five Bombardier CRJ900s and two Airbus A220-300s.
However, the airline is keen to expand its fleet to bolster its domestic schedule and soon-to-start regional operations.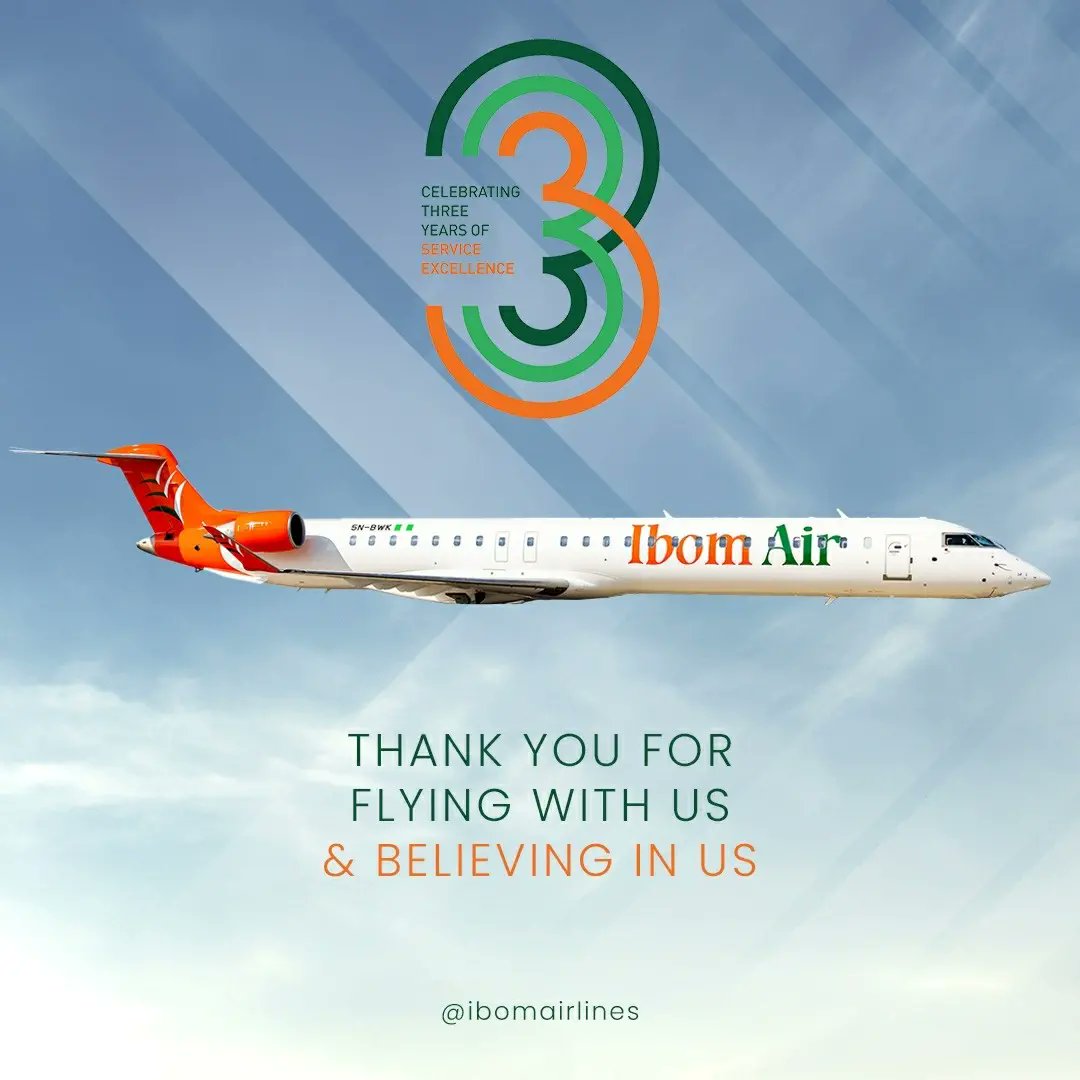 In November 2021, the airline signed an agreement with Airbus at the Dubai Airshow to acquire 10 Airbus A220s. The decision to expand its fleet with Airbus's A220s followed a one-year testing period where the airline wet-leased two A220s from EgyptAir.
In a press statement regarding Ibom Air's agreement with Airbus, published on November 16, 2021, the airline dubbed the A220 as the "right choice right choice for its domestic and regional aspirations".
READ ALSO: AIB-N Denies Attacking Any Organisation
"Working in collaboration with the Airbus team, Ibom Air took an innovative approach to make the choice of the A220," the statement continued.
"The airline started by wet-leasing two (2) A220s for a year, to test the suitability of the aircraft for their needs. Within 6 months of this process, the airline was able to validate the A220 as the right choice for its domestic and regional aspirations," the airline said.
The November 2021 statement also included comments from the airline regarding plans to expand its operations throughout Africa, starting with regional routes to West and Central Africa.
"The order of the ten (10) Airbus A220 is in line with the airline's aggressive growth plan, which will see it expanding its footprint into new domestic routes as well as regional routes covering West and Central Africa in the immediate future."
"The first phase of this expansion is set to cover cities like Malabo, Douala, Libreville, Kinshasa, Accra, Abidjan, Freetown, Banjul and Dakar. Ultimately the airline intends to operate throughout the continent of Africa," Ibom Air said in the statement.