…Sign MOU on Compliance
By Frank Kintum
Minister of Aviation, Senator Hadi Sirika and the Director General of the Nigerian Civil Aviation Authority (NCAA), Capt. Musa Nuhu, have been commended for their professional inputs towards ensuring the birth of new handling rates for the sub-sector.
These commendations were made by the members of the five aviation handling companies in Nigeria under the aegis of Aviation Ground Handling Association of Nigeria (AGHAN).
This is coming as the Chairmen and Chief Executive Officers (CEOs) of the five handling companies have signed a joint agreement that will ensure compliance with the new charges, just before the commencement of the revised safety threshold handling rates by January 1, 2021.
It would be recalled that the NCAA in a letter dated December 12, 2021, had approved the discount of 25 per cent rate on the new handling charges as requested by the Aviation Ground Handling Association of Nigeria (AGHAN).
A joint communiqué signed by helmsmen of the five handling companies-Olumuyiwa Olumekun, Acting CEO, Nigerian Aviation Handling Company (NAHCO) Plc; Mr. Basil Agboarumi, CEO, Skyway Aviation Handling Company (SAHCO) Plc; Mr. Samuel Oluwole, Director, Aviation Handling Service (AHS); Alhaji Bello Salihu, CEO, Butake Resources Ltd (BRL); and Mr. John Adebanjo, the CEO, Swissport Nigeria, dated December 14, 2021 to the domestic and foreign airlines, indicated that the new rates would commence on January 1, 2022 for international airlines and March 1, 2022 for domestic operators.
The joint communiqué stated that the new handling rates were reached after consultations with the NCAA, the National Assembly and other relevant stakeholders within the aviation industry where it was unanimously agreed that there was the need for an upward review of the handling rates.
This upward review, the joint communiqué said, would enable sustainable and profitable ground handling rates, while also maintaining the highest standards of safety operations in the sector in Nigeria.
The communiqué read in part: "In view of the foregoing, kindly find attached the new revised ground handling rates for our operations. The commencement date for these new revised rates is as follows: International/regional operations; effective January 1, 2022 and domestic operations; effective March 1, 2022."
The new handling rates are between $1,500 and $5,000 (passenger and cargo flights) for narrow and wide body aircraft on international routes, respectively, while for domestic operators, it was upped to N25,000 and N70,000, depending on the aircraft type.
Narrow body aircraft include Boeing B737, Airbus A320, ER 135 and ATR, while wide body aircraft are B767, A330, B777, B747 and B787.
It has been noted that before the current approval, the last time handling rates were reviewed in Nigeria was in 1986 and the international airlines were still paying as low as $400 to handle narrow body aircraft, while they were charged between $1,000 and $1,200 for wide body aircraft.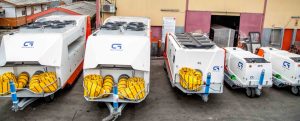 Comparative analysis has shown that in Guinea, foreign airlines are charged $1,673 (narrow body); $4,715 (wide body), Senegal; $2,250 and $5,259, Cameroon; $1,400 and $4,500, Sierra Leone; $2,250 and $5,250 and Ghana with $1,500 and $4,150 for passenger flight.
Cargo flight attracts $2,300, $1,750, $2,300, and $2,500 in Senegal, Cameroon, Sierra Leone, Ghana, respectively for narrow body aircraft, while for wide body aircraft, the ground handling in those countries charge between $4,450 and $5,250 per flight.
Reacting to the development, Mr. Olaniyi Adigun, Chairman, AGHAN stated that "the journey so far has not been easy. It was tough. We approached the NCAA and NCAA too agreed that it was necessary for us to increase, but how do we approach it? The first attempt was abortive because of the resistance of the strong and formidable airlines. This took us to the National Assembly where all was addressed. A one way ticket to Abuja now is about N80,000, while we were handling them for between N10,000 and N20,000. Who does that? We needed to increase based on the economic realities on ground.
"But, thank God for the minister of aviation and the present DG of NCAA who saw the realities on ground and take Nigeria as their own. To us, it is a win-win situation for us all, including the airlines".
On monitoring of the implementation, he added that "If anyone wants to take advantage of this, then, you want to drag us backward to where we were coming from, which is about 36 years ago. If anyone compromises this, you are committing economic sabotage against the federal government. Also, what about the safety and the security issues? We have the minimum by which we can negotiate. No one can go below that charges.
"The association is coming out with a watertight commitment that will stipulate the penalties to any of our members that violates the agreement. And like I said, it will be termed as economic sabotage and the chairmen of these companies are the ones signing this communiqué, which will convey the commitment".
Also commenting, Alhaji Bello Salihu, CEO, Butake Handling Company, said "It doesn't make sense for airlines coming into Nigeria to pay $300 for services here and go to Accra to pay about $2,000. So, if the cost of handling is consistently low in Nigeria, Nigerian operators are shortchanged because they pay higher outside. That is why the handling companies and the federal government will continue to lose revenues because appropriate rates are not being paid here.
"The safety threshold is not just about the handling companies, but also about the safety and security of the country. With appropriate charges, safety and security will better be enhanced and NCAA is doing the right thing by understanding our position. With this, Nigeria will not continue to lose revenues and the sub-sector will be able to contribute to the growth of the industry.
"We are very grateful to the government who understand our position. By raising the handling charges, you are not doing the handling companies any favour, rather, you are asking them to operate efficiently and effectively in accordance to the standard operation procedure that is published by both ICAO and IATA. We are a category One country in terms of safety and security. If handling companies are not operating to the standards, do you think we can retain the Cateory One Status? We cannot".
In his own view, Ahmed Bashir, Vice President, AGHAN, added that "On November 5, we all signed a resolution, having had a conversation with NCAA as regards to discount. NCAA after stakeholders' engagements, which include the national assembly, we agreed that a 25 per cent discount be given on what was approved by NCAA.
"After this, we signed a resolution that these rates were negotiated on behalf of the handling companies by AGHAN and the entire ground handling companies have agreed to abide by the new safety threshold handling rates. We all signed and put our companies' seal, which is a sign of authority".
Mr. Samuel Oluwole, Chairman, Precision Handling Company, also pointed out that "we have to hold ourselves accountable this time around because everyone is drowning and we appreciate that very much. So, we are going to have a technical committee in place that will be like an inspectorate that will be able to monitor the handling companies in the country and severe fine will be meted out by the disciplinary committee on the resolution and any infringement. This will be done after due notification to the NCAA. This will be in place in the interest of everybody".