It was pomp and pageantry recently at the headquarters of the Federal Road Safety Corps (FRSC) as erstwhile Assistant Corps Marshal Bisi Kazeem promoted to the enviable rank of Deputy Corps Marshal, was successfully decorated by the Corps Marshal, Dauda Ali Biu during a decoration ceremony that held at the national headquarters of the Corps in Abuja.
The Corps Marshal was assisted in the decoration ceremony by the Chairman, Senate Committee on Petroleum Down Stream Sector, Distinguish Senator Ipinsagba and the wife of the the decorated, Alhaja Ajoke Bisi Kazeem.
DCM Bisi Kazeem is to represent the Southwest geo-political zone of the country.
Other dignitaries present were Chairman, House of Representatives Committee on FRSC, Hon. Derin Adesida; Chairman, House Committee on Public Accounts, Hon. Bamidele Salam, and the Vice Chairman, House Committee on Pensions, Honourable Laide Muhammed.
Others who attended are the former Speaker, Ondo State House of Assembly, former Commissioner for Works and Board Member Code of Conduct Bureau Rt Hon. Wale Abdulsalam, Legal Adviser and Secretary, Central Bank of Nigeria, Mr Kofo Abdusalam as well as the immediate past Chairman of Akoko North East Local Government Council, Ikare, Prince Lekan Bada amongst others.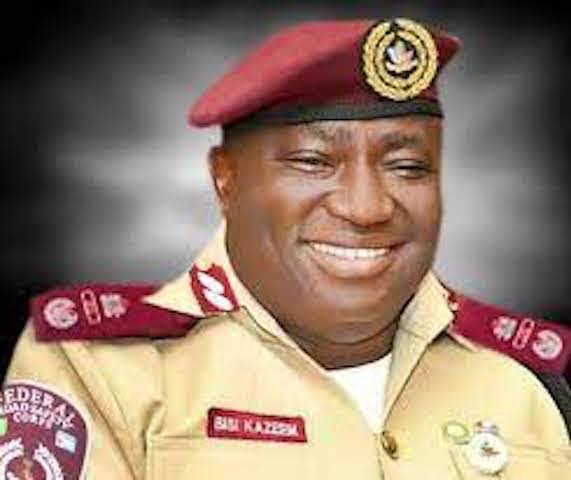 Speaking before the decoration, the Corps Marshal re-emphasised the height of transparency that heralded the exercise and charged the newly appointed Officer to rededicate self to service to the nation.
While giving words of appreciation at the end of the decoration exercise, Deputy Corps Marshal Bisi Kazeem expressed his deepest gratitude to the President and Commander in Chief, Bola Ahmed Tinubu GCFR, the Secretary to the Government of the Federation as well as the Corps Marshal and the entire Management team for the honour to serve in a higher position.