Four prominent personalities in the transport industry have won the Nigeria Transport Personality Award at the recently held Nigeria Annual Transport Lecture and Awards held at the Shehu Musa Yar'Adua Centre, Abuja.
The four personalities who made the final list of short-listed awardees nation-wide include the former Permanent Secretary of the Ministry of Special Duties and Inter-governmental Affairs, Amb. Anthonia Ekpa (who was a Director in the federal ministry of Transport); Director General of the Nigerian Institute of Transport Technology (NITT), Dr Bayero Salih-Farah; the Managing Director of 7-Star Global, Chief Isaac Balami; and the Finance Director of the Nigerian Railway Corporation, Mr. Felix Njoku.
Ekpa was Permanent Secretary in three critical Ministries- Foreign Affairs, Federal Ministry of Women Affairs, and Federal Ministry of  Special Duties and Inter-governmental Affairs (The Presidency).
She has extensive academic background and professional experience and expertise in Governance, Development Management, Leadership, Change  management, Organizational Development, Policy Analysis, Public Administration, Strategic Communication, and English language with International training acquired globally.
Experienced reforms expert with Multiple stakeholder engagement, working in key Institutions of the Nigerian Federal Government and managing change in the following sectors: Public Service, Water Resources, Power (Energy), Transportation (road), Gender, Women and Children Affairs, Foreign Affairs, Environment (Green transportation and fuel emission reduction) as well as Inter-governmental Affairs.
Ekpa has acquired academic qualifications and specialization from four Universities in the Arts and Social Sciences: PhD, MA, MSc and BA (Hons) with University Academic /lecturing experience.
She is a Fellow and Member of many Professional Institutions and organizations. An Alumna of the British Chevening Scholarship 2001 to 2002 and currently Goodwill Ambassador of the University of Calabar, Nigeria.
She has also received many awards from Government and other Institutions, and served with and on International Boards and Committees including those of the United Nations, ALCO, World Bank and ECOWAS. She also served on select Nigerian Boards including NPA, NITT, UBEC and NACA. She is a literary writer with published works in poetry and children's literature.
Born on March 11, 1964, at Kagoro, Kaura Local Government Area of Kaduna State, Salih-Farah attended Kpak Local Education Authority Primary School from 1971 to 1976.
After successful completion of primary education, he attended Katsina Teachers College from 1976 to 1981 where he obtained his Teachers' Grade II Certificate.
He later proceeded to Usman Dan Fodio University, formally the University of Sokoto. where he obtained his Bachelor of Science Degree in Geography in 1987.
Not satisfied with the first degree, Salih-Farah proceeded to Ahmadu Bello University (ABU) where he obtained a Post Graduate Diploma in Public Administration in 1992 and another postgraduate Diploma in Transportation at the Nigerian Institute of Transport Technology NITT, Zaria in 1995.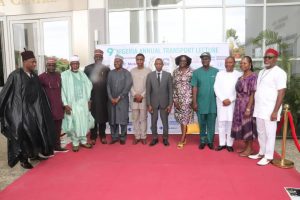 He returned to ABU, Zaria in 1995 for his Master's in Business Administration (MBA) and through hard work and resilience obtained his PhD in Management and Business Studies with Specialisation in Logistics and Freight Traffic Management from the prestigious University of Huddersfield, United Kingdom.
He took appointment with NITT Zaria as a Senior Staff Development Officer in 1994 and by dint of hard work rose to the position of Director in 2013.
All through these years, Salih-Farah has made his mark having carried out the responsibilities bestowed on him with diligence, commitment, dedication and professionalism and his performance was outstanding.
Of particular note was his ability to increase the participation level of people in NITT training programmes over these years, while serving as Director of Training.
Prior to that, Salih-Farah had supported past Chief Executives to huge success in the administration of the institute where he served as Special Assistant to two former Chief Executives.
Isaac Balami is a prominent Nigerian youth. As an aviator, he is a former National President of National Association of Aircraft Pilots and Engineer s(NAAPE), a position he held for eight years.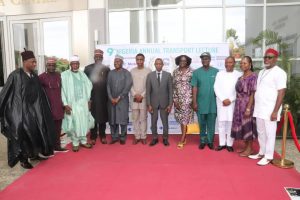 He is the CEO of 7Star Global. 7Star Global is a group of companies that is made up of 7Star Global Hangar- The first independent and private aircraft Maintenance, Repair and Overhaul (MRO) in West and Central Africa; 7Star Global Airlines- The First African Premium Airline; 7Star Apparels (A big and fast rising Nigerian fashion world); and Buy7Star- a proudly Nigerian e-commerce platform for Nigerian entrepreneurs.
He is also the former President, Arewa Consultative Forum (youth wing) and a former spokesperson for Trade Union Congress (TUC). Balami is a philanthropist with over 600 orphans and widows under the direct care of the Isaac Balami Foundation.
Balami is a recipient of over hundred local and international awards for his personal and career achievements.
He is also the President of the Association of Aircraft Maintenance Organisation of Nigeria.
Mr. Felix Njoku is a seasoned finance and accounts administrator. He is a Chartered Accountant and active member of the Institute of Chartered Accountants of Nigeria and the Chartered of Institute of Taxation of Nigeria as well as a graduate of the University of Nigeria, Nsukka.
Coupled with in-depth and extensive experience spanning public service, industry, public accounting and practice, consulting and training as well as Public service experience, Mr. Njoku, is currently the Director, Finance, Nigerian Railway Corporation since 2014.
He was the Railway District Manager, East with headquarters in Enugu from October 01, 2011 to April 30, 2014.
He has headed budget & planning of the corporation and was responsible for budgeting, expenditure control and general accounting operations.
Later on, he was appointed the district accountant, Lagos district, Ebute- Metta. His consulting engagements include the African Development Bank (ADB) sponsored institutional strengthening of Plateau and Bauchi state water board and Akwa Ibom state water corporation involving re-organisation as well as system and procedural development with implementation .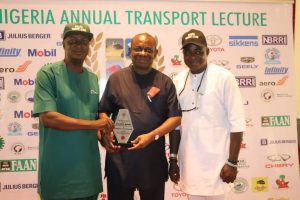 He has been in charge of high profile audit engagements such as Orient Bank Nigeria Plc, Federal Savings Bank, NEPA, FRCN, National Martine Authority, and NNPC –NAPIMS Accounts, NNPC Joint Venture with AGIP and ELF, Palm Beach Insurance, African Safety Insurance Ltd etc.
The 9th Nigeria Annual Transport Lecture, which held at the famous Shehu Musa Yar'Adua Centre on May 19, 2022, is organised by Transport Day newspaper, Nigeria's leading Transport and Logistics newspaper.
Dignataries who graced the annual event include the Permanent Secretary of the federal ministry of Transport, Dr. Magdalene Ajani; former Permanent Secretary, ministry of Special Duties and Inter-governmental affairs, Dr. Anthonia Ekpa (who was the lead Speaker); Director General of the National Automotive Design and Development Council, Mr. Jelani Aliyu; Managing Director of Eco Bus, Mr. Johann Reiger; National President of the Nigeria Association of Road Transport Owners, Alhaji Yusuf Othman among others.
The Hon. Ministers of Aviation and Works, as well as the Chief Executive Officers of the Nigeria Aviation Management Agency, Nigerian Railway Corporation, Nigeria Civil Aviation Authority, Nigeria Institute of Transport Technology, Federal Road Safety Corps, Infrastructure Concession Regulatory Commission, Nigerian Shipper' Council etc were also represented.