Photo Caption
L-R: Navy Commander M.N Dalhatu; CSI S.O Adewunmi; Lt. Col B.I Amajuoyi; and NDLEA Commander Mr. Ameh Analegwu, at the event
By Frank Kintum
About 500,000 people were killed in 2019 due to drug use. This figure was disclosed by the Chairman/Chief Executive Officer Of National Drug Law Enforcement Agency (NDLEA), Brig. Gen. Mohamed Buba Marwa (Retd), OFR in Apapa, Lagos today.
Represented by the Area Commander of the Apapa Area Special Command of the agency, Mr. Ameh Analegwu, Marwa stated that according to the World Drug Report 2021 "drug use killed almost half a million people in 2019, while drug use disorders resulted in 18 million years of healthy life lost, mostly due to opioids.
"Serious and often lethal illnesses are more common among drug users, particularly those who inject drugs, many of whom are living with HIV and Hepatitis C.".
At the event which was held to mark the UN Day Against Drug Abuse And Illicit Drug Trafficking 2022, Themed "Addressing Drug Challenges In Health And Humanitarian Crises", the NDLEA boss revealed that "the drug abuse health challenge came to the fore in 2021 as the human family was recovering from the COVID-19 blight.
"The concerns raised by the World Drug Report 2021 were not farfetched because here in Nigeria, we are beginning to see similar patterns from the findings of the National Drug Use and Health Survey 2018. The survey recorded an estimated 376,000 high-risk drug users in the country, of which 1 in every 5 injects drugs.
"And with a total of 80,000 People Who Inject Drugs (PWID), the risk of the spread of HIV, Hepatitis C and other blood-borne diseases was high and this in turn raises the stake of a public health crisis. Hence, there was no questioning the rationale of treatment for drug users".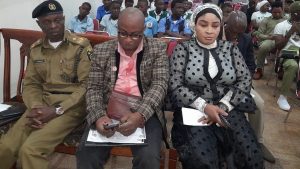 Marwa also added that the National Drug Use Survey indicated that "Two-thirds of high-risk drug users reported a self-perceived need for drug treatment. Around 40 per cent of those reported that they had wanted to receive drug treatment but were unable to access such services." Aside from the cost of treatment, the stigma associated with substance use and access to required health services are major barriers to treatment in the country.
"But this year's theme has provided the impetus to break down those barriers and pave way for the unencumbered treatment of health concerns related to drug use.
"At NDLEA, we have a sense of urgency in tackling the health consequences of the abuse of illicit drugs. We not only acknowledge the importance of improved access to treatment, care and rehabilitation, but we have also integrated that into our activities as part of the radical reforms in the Agency since January 2021. In this regard, we are open to options that could effectively help to stave off the public health problems that are drug abuse-related".
It was also revealed by the drug law enforcement boss that "this year alone, we have counselled and rehabilitated 3, 523 drug users mostly through brief interventions in our facilities".
He also revealed that an NDLEA Toll free call number : 0800-10203040 would be launched by the agency on Thursday, and will run as a 24/7 call centre with a helpline that can be called by drug users who need help but are afraid of stigmatisation or do not know how to get help".
The event also witnessed the presentation of a paper by Dr. Wale Oke, a former official of the NDLEA. In his presentation, he explained that drug abuse has physical, psychological, social and health effects on users.
According to him, there is an urgent need for more stakeholders in the maritime sector to collaborate with the NDLEA to expand the fight against drug use.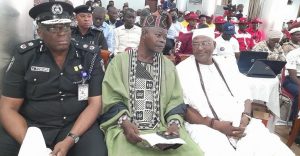 The gathering was witnessed by representatives of the Nigerian Army, Nigerian Navy, Nigerian Immigration Service, Department of State Services, Agriculture Port Service, Traditional rulers, Apapa Local government, Youth Corpers, secondary school students, stakeholders in the maritime industry, among others.
Monday's event was the climax of a week long programme which started one week ago with a Press Conference by the Special Command. Thereafter, there were other activities like meeting with students, parents, royal fathers and religious interface.