Photo Caption
MD, Toyota Nigeria Limited, Mr. Kunle Ade-Ojo, making a presentation to the Star Kid, Oluwademilade
Nigerian schoolchild, Oluwademilade Odumuboni, has emerged a global grand prize winner of the 2022/23 edition of the Toyota Dream Car Art Contest.
The 10-year-old boy, a pupil of Corona School, Gbagada Lagos, competed and won the coveted prize in the 2022/2023 edition after beating 782,852 other contestants from 90 countries.
He went beyond and above the 18 Global Best Finalists to win the coveted Global Grand Prize.
The event is organised annually by Toyota Motor Corporation (TMC), Japan for school children all over the world, challenging them to draw their dream cars with a free idea.
Master Odumuboni's waste converter vehicle, with the concept of helping countries, especially African communities, in food production and ensuring clean environment, was adjudged the best globally.
He was today, Saturday, September 2, honoured and presented with a prize money of $5,000, a plaque, and a certificate at a special ceremony organised by Toyota Nigeria Limited (TNL) in Lagos on behalf of the TMC of Japan.
His school, Corona, was also given $10,000 prize money; while his Art teacher, Mr Ojeagbega Oserogho, received a laptop for helping the gifted boy to excel. The prize money is meant for educational purposes.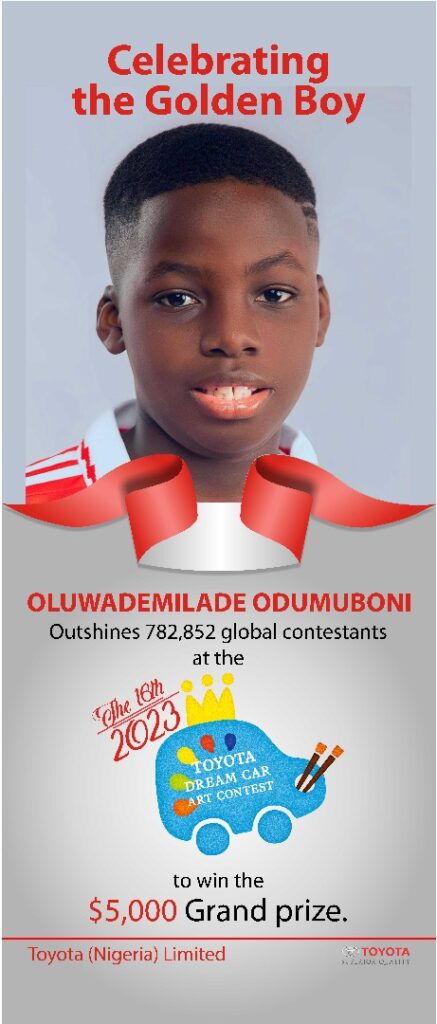 Speaking at the ceremony, Managing Director, Toyota (Nigeria) Limited, Mr Kunle Ade-Ojo, said, "We are very excited and elated. Indeed, we are very proud of the feat that Demilade achieved by also placing Toyota (Nigeria) Limited in the forefront of distributors globally."
He said the Nigerian star boy "dared to dream and his unique idea and dream, today has placed him and Nigeria on the global map of one of the largest Global Art Contests for children.
"His unique and truly inspirational idea expressed in an equally creative drawing earned him a global grand prize in the contest beating over 782,852 contestants from 90 countries/regions."
Ade-Ojo recalled that while the parent company, TMC of Japan initiated the contest in 2004, Toyota Nigeria keyed into it four years later as a corporate social responsibility initiative to help children express their imagination of a future car through drawing.
With Oluwademilade's victory on the global stage, the TNL MD declared that his company felt fulfilled with its efforts of 15 years finally crowned.
"Apart from the Shield and prize money from Toyota Motor Corporation that Demilade will be going home with, Toyota (Nigeria) Limited will also present a certificate and trophy to him," he added.
The contest, he said, was also meant to drive the children to imagine a peaceful world full of smiles and to promote a friendly society.
"This way, Toyota is also cultivating a lifetime friendship with all these children while encouraging them to care for our planet and push their imagination beyond limits," he stated.
Giving some details about the competition, Ade-Ojo said annually, like other participants countries, three winners are picked in Nigeria from each age category: Category 1 (children not older than seven years); Category 2 (8-11 years); and Category 3 (12-15 years old), making nine winners.
The shortlisted nine national winners and their drawings are sent to Japan to compete with other drawings received from all over the world.
"Our Demilade is one of these three grand prize winners globally. He has been awarded 5,000 USD and his school, Corona School, Gbagada, has been awarded 10,000 USD."
The ceremony was attended by parents of the star prize winner, family members, selected pupils from the school and their teachers led by the Head Teacher, Henrietta Eguagie.
Eguagie commended Oluwadamilade for his remarkable achievement that had brought glory to the school.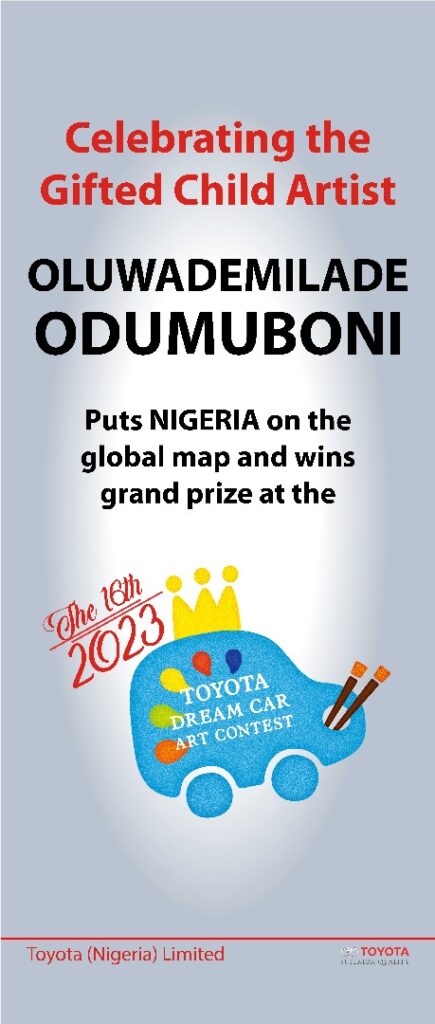 She also hailed Toyota for the initiative of inspiring young people to unleash their creative expression and artistic potential.
"As one of Nigeria's leading educational institutions, we are dedicated to utilising this prize money in a manner that directly benefits the learning experiences and development of our students."
Specifically, Eguagie listed areas they plan to invest the money as Toyota Dream Car Endowment Fund, Oluwademilade grant for art, establishment of art gallery and exhibition, digital art studio, art and tech competition, among others.
The star boy, in his response expressed gratitude to the TNL AND TMC of Japan for the opportunity to express himself through art; as well as his school, art teachers, parents for their encouragement.
"I appreciate Toyota for this award and for believing in a little child like me..I'm also grateful for the big award shield; I'll surely display it in my room and admire it every day when I wake up in the morning. This experience has taught me that hard work pays and that we should never give up.".