The Lagos State Government has announced that it will start the compulsory implementation of Proof of Ownership Ceetificate (POC) for all categories of vehicles including tricycles and motorcycles from next month.
This was stated today by the Permanent Secretary in the Ministry of Transportation, Engr. Gbolahan Toriola, at a press briefing in Ikeja, Lagos.
Aside the Permanent Secretary, the press was also briefed by the representative of the Federal Road Safety Corps (FRSC), DCC Tajudeen Mafe; Mr. Segun Obayendo, Group Managing Director of Temple Group of companies and the representative of the Head of the Lagos State Motor Vehicle Administration Agency (MVAA), Madam Olabisi Olowolagba.
The re-introduction of the POC at a fee of N1000 (to be renewed annually), was approved by the Joint Tax Board (JTB) which is made up of representatives of 36 state governments and Federal Capital Territory (FCT).
Toriola, disclosed that the policy, to be implemented by every state, was designed to streamline and enhance process of vehicle ownership verification across the country.
According to him, the new policy would aid better planning, security and accountability within the country's transportation network.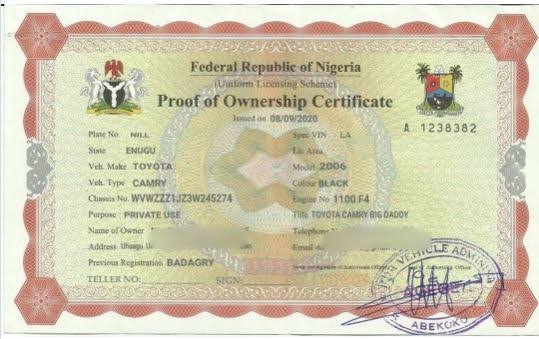 Toriola said that the initiative was in accordance with the National Road Traffic Regulation 2012 as amended, No. 101, Vol. 99; Section 73- (1) which states that 'There shall be Proof of Ownership Certificate for all registered Vehicles'. Section 73- (1-6) also added that 'The commission shall establish and maintain a Central Data Base for Vehicles and drivers for the federation.
"We believe that the POC will help track the real time status and guarantee the integrity of all vehicles registered on the National Vehicle and Identification Scheme (NVIS) database and it is based on the safety and security it guaranteed that the Governor of Lagos State, Mr. Babajide Olusola Sanwo-Olu has approved for its commencement in Lagos State, hence this briefing to enlighten the public," he said.
Mafe, the FRSC representative also stated that the implementation of the POC is in line with the FRSC Establishment Act of 2007, to regulate and enforce all road safety management procedure through robust database, expressing willingness of the agency to ensure smooth enforcement of the measure.
Obayendo, stressed the significance of this procedure in addressing the issue of stolen vehicles that are currently untraceable.
He emphasized that with this initiative, interstate vehicles can be easily verified and captured in the database. He also highlighted the role of data in the success of the Intelligent Transport System, which is being currently embraced worldwide.
In the same vein, Olowolagba stated that the initiative aligns with the agency's vision of gathering reliable and accurate database which will aid its operations.
The POC, which will capture information from Vehicle licence, vehicle insurance and Road Worthiness Certificate, is to be renewed annually at the point of renewal of vehicle licence.