By Ignatius Ushie
As the year 2021 marks the 40th anniversary of the China Civil Engineering Construction Company (CCECC) into Nigeria, the Minister of Transportation, Rt. Hon. Chibuike Rotimi Amaechi, has lauded the company's contributions in infrastructural development through it's resources and Corporate Social Responsibility to reduce infrastructure deficit in the country.
In a statement by the Media Aide to the Honorable Minister of Transportation, Taiye Elebiyo Edeni, made available to Transport Day in Abuja, Ameachi said that CCECC assistance through funding of infrastructure in the country had led to the giant developmental stride in Nigeria, adding that the company is part of the rail success story.
According to him, "I must commend the CCECC they're doing good work and I'm grateful that we're able to get a European firm to supervise them. Both of them are doing wonderful job and occasionally we have disagreement, it is to be expected with such large project.
"There are few occasions where we have the issue of quality where the consulting engineer says 'I don't agree' and the company does not want to change. I will go at them and say 'you must, because this is the man we will hold responsible so you must obey him' and they obey and have been cooperating to provide Nigerians with good quality infrastructure".
He said, "Occasionally it may cost us more like the issue of signaling but we're on track and we insist on quality. I tell people that when there's a railway accident, it's not just three or four people that die. If you're not careful, it will be in hundreds. So, you must construct to the point where you avoid derailment according to global standard".
Amaechi said that the Europeans and Americans have contributed their quota to the infrastructure development of the country, adding that it was also a commendable effort on their parts.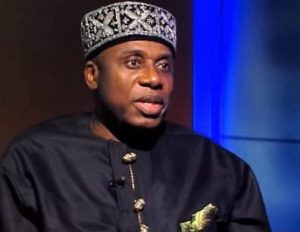 The Minister however, said that the Chinese model was more appropriate to Nigeria because it directly funds infrastructural projects.
"That is why every Chinese loan is tied to a project. The Chinese would say 'Ok, I have $10billion for you but you have to show me the project and give the contract to a Chinese firm.
"As much as I criticize CCECC from time to time whenever I work with them, we must also show some level of gratitude, to them, for delivering constant value and going the extra mile to impact the lives of Nigerians through their Corporate Social Responsibility programmes.
"For instance, the Kajola project is not part of their contract; they're looking at the future. They're looking at sustainability of  the railway modernization programme by building the plant that would manufacture the rolling stock and coaches to feed the programme so the country don't have to rely on imports".
"If they want to manufacture wagons from here it means they must be getting orders from Nigeria. No problem at all, they can even own it. For me, what is critical is the employment it creates that's why I ask for them to localize the technology".
"The second part is to thank them for the Transport University in Daura, which they have agreed to build. Now what does the university do? It localizes the technology, it teaches Nigerian students how they can construct their own rails and how they can build their own locomotives and coaches".
"We're grateful because it's not part of their contract. They can say 'my contract is XYZ and my profit is XYZ where do you want me to get that money' but what they have done is to be able to share part of their profits with Nigeria which set the CCECC apart.
"The Transport University is going to be built entirely for free by the CCECC." The Minister noted.